Did you know the patron saint of Ireland, St. Patrick wasn't even Irish?
In light of St. Patrick and the Irish's day of celebration (and for some people, lots of drinking), I thought it seemed fitting to feature an amazing Spinach Superfood Shake. Hangover cure? Sure! After workout power smoothie? That'll work too. Either way, this recipe is 'super' easy.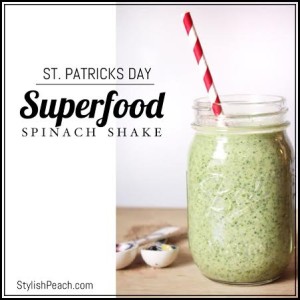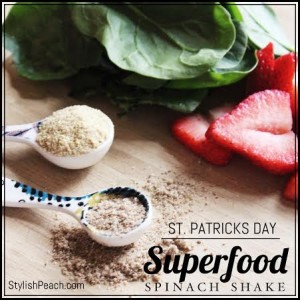 Ingredients:
-1 large banana – previously peeled, sliced and frozen
-1 heaping handful of spinach (approx. 1.5 cups)
-1/2 an apple (red or green, peeled or not — up to you)
-1/2 cup unsweetened almond milk (my original recipe called for coconut water but someone took the last one to work *ahem* I'm not naming names)
-1 teaspoon ground flaxseed
-1/2 teaspoon ground chia seeds
-1 scoop of protein powder (optional) -I use Vega One
-1 handful of sliced strawberries (optional)
Directions:
Rinse spinach, peel and dice apple and slice strawberries. Blend all of your ingredients together including your frozen banana. If you feel your shake is too thick, add more milk. I added a few cubes of ice because my banana wasn't as frozen as I'd like. Plus, I like my shakes really cold.
Enjoy!